---

Value Added Services

Our primary business is first and foremost focused on the manufacturing of Liquid Crystal Display products. We create quality (ISO 9001 compliant), cost effective, Liquid Crystal Display components and module subassemblies. We can also offer the capability to add your user interface components to our LCD Module platform, such as switches, indicator lights, injection molding, sheet metal bezels, and keypads.

Since the LCD Modules complement your overall user interface and already provide mounting for a variety of LCD related components, it is an easy extension of our capabilities to place additional components onto a custom version of the LCD module. The services being offered below will complement your product design and manufacturing processes, as well as save both time and cost in both.



Assembly and Test of Integrated Customer Circuitry
Pacific Display Devices' capabilities are standard board fabrication and assembly, COB (chip-on-board), chip-on-flex, chip-on-film, COG (chip-on-glass) and TAB (Tape Automated Bonding). However, we work proactively to develop new technologies to fulfill our clients' needs. Pacific Display Devices can use this expertise to add customer specific circuitry for specialized interfaces or functionality as required. Do you need to add a specialized serial interface, cabling, control switches or individual indicator lights? We can work with you with general or specific requirements and engineer those features into a low cost user interface solution.




Custom Touch Screens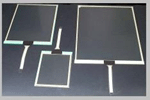 Pacific Display Devices uses touch screens on several of our LCD products. We typically use analog-resistive touch screens for very precise touch location, and integrate them as an independent feature, where the customer will integrate their own decoder, or as a fully integrated assembly, where we have integrated the full decoding electronics (see touch screens). If your LCD needs a touch screen, we are more that happy to offer engineering and production services to integrate a touch screen feature into your product.

These are some of our expertise and capabilities beyond basic LCD products we can offer to you, but if you have a specialized requirement you do not see here, do not hesitate to ask.
.